PRESS ARCHIVE, contests 2017 & 2018
Press release March 06, 2018
Spellbound by the Northern Lights
Amelia Hillebrants art work "Home of the Northern Lights" has been voted Finnish Travel Poster of the year, 2018.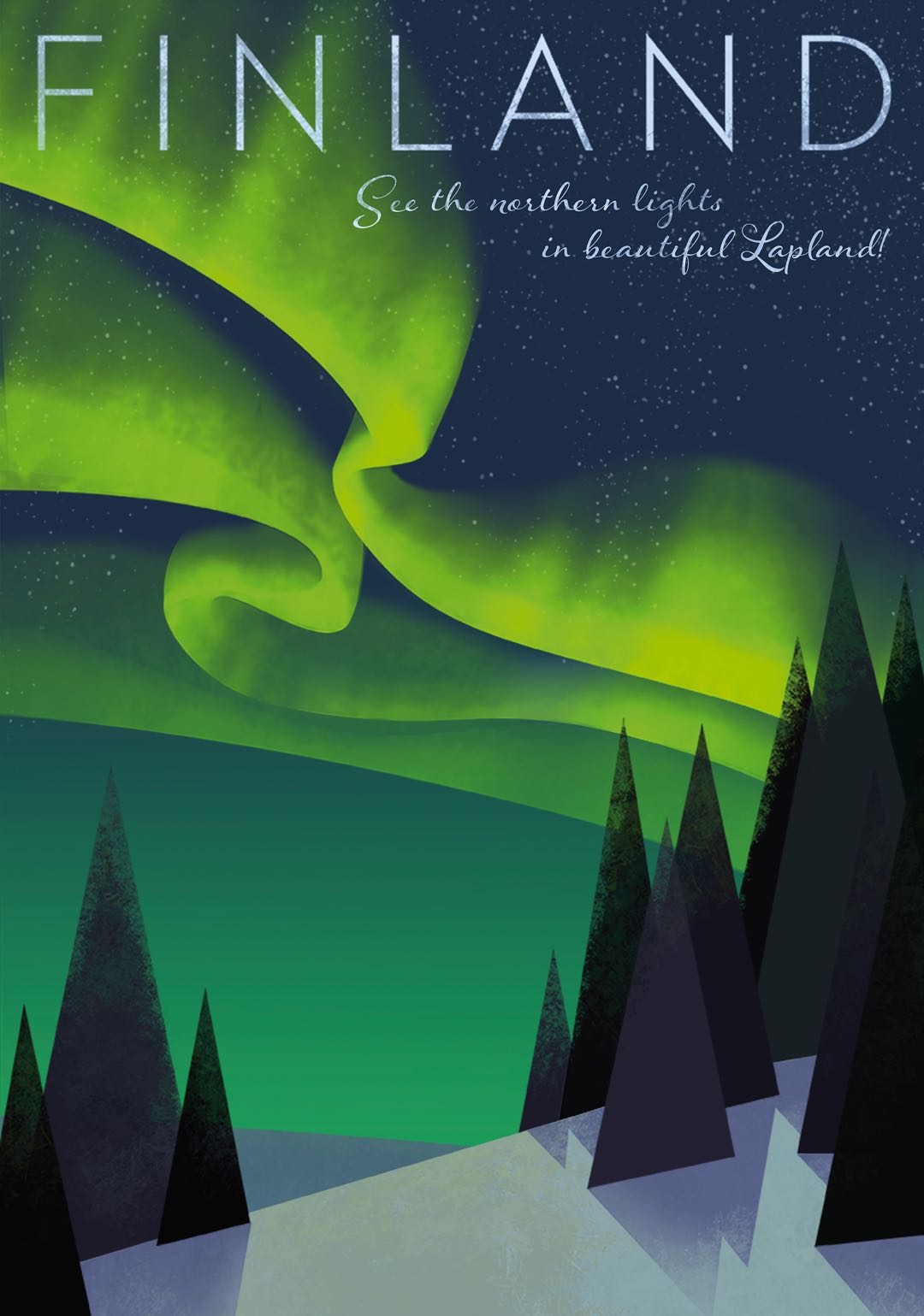 "I created my Finland travel poster as an assignment for a class and wanted to recreate the feelings of majesty and awe that I found in the rich colors of the wintry landcape and northern lights."
Hillebrant is now a student at Brigham Young University in Utah, but she grew up in Washington. She's 23 years old and has spent some years in the Finnish towns of Turku, Tampere and Kuopio as a missionary for the Church of Jesus Christ of Latter-day Saints.
"I fell in love with Finland immediately. The cities were beautiful, the scenery breathtaking, and the people so kind and honest."
The worldwide contest was arranged in November 2017 by poster company Come to Finland Publishing, Grafia rf, Visit Rovaniemi, Lapland Hotels, the advertising agency SEK and the Museum/science centre Arktikum in Rovaniemi. The idea is to create a renaissance for poster art.
Hillebrant will receive 2000 euro and a trip to Finnish Lapland.
Magnus Londen is the CEO of Come to Finland Publishing and was also the chairman in the jury:

"Hillebrants poster captures the magic of Lapland in a magnificent and artistic way. Northern Lights are nowadays the ultimate symbol for Finnish Lapland, so we're really pleased this poster was popular both in Finland and internationally."

A jury picked out the top 10 selection, then the voting started. A total of roughly 3500 votes were cast.

The runner up title was awarded Emma Chudoba with the poster "The Magic of Lapland". Chudoba is a graphic design student at the University of Lapland. She has a deep passion for the north, after spending a few of her early childhood years in southern Lapland
"There are countless things I love about Lapland, but hiking in its vast wilderness and getting up to high places with spectacular views is something I could consider one of my favourite things. Lapland also tends to display colours in a way that can feel truly magical, and to me that was definitely something worth trying to capture in my poster."

The jury consisted of graphic designer Marika Maijala, curator Tuija Alariesto at Arktikum, creative director Sami Kelahaara at SEK, marketing designer Kaisa Heiskari at Visit Rovaniemi and Magnus Londen, poster hunter at Come to Finland Publishing.
The contest My Finland Poster was now arranged for the second time, a new contest will be announced in November of 2018.
"Poster art is truly thriving again. This is only the beginning" says Magnus Londen at Come to Finland Publishing.
Pics: https://photos.app.goo.gl/sm6hFevyWdiOADY42
Info: Magnus Londen, Come to Finland Publishing, phone 0443788448
magnus.londen@cometofinland.fi
Press release Jan 18, 2018
Pick the travel poster of the year!
What should a travel poster for Finnish Lapland look like? Following a big international competition ten works of art have been chosen by our jury. Now it is up to the people to decide – the voting starts at the Travel Fair in Helsinki.
Finnish Lapland is more popular than ever among international travelers. That is why Lapland needs an artistic travel poster – so that each and every one will understand the charm surrounding this northern region.
This is the reason why the poster company Come to Finland and partners in November announced an international competition aimed at graphics, illustrators and artists. The mission: Capture your own Lapland in a classic travel poster.
The contributions started pouring in. We got over 130 works of art from more than 25 different countries, and among these the jury was to select ten finalists:
"The immensity was amazing. From reindeers to northern lights, from summer to winter, from paddling to hiking, from classic vintage style to abstract pieces of art. The posters depicted precisely the diverse Lapland we were hoping for" says the jury president Magnus Londen.
The jury was made up by illustrator Marika Maijala, the advertising agency SEK's creative director Sami Kelahaara, the exhibition amanuensis for The Provincial Museum of Lapland Tuija Alariesto, Visit Rovaniemi's marketing designer Kaisa Heiskari, with Come to Finland's poster hunter Magnus Londen as the president.
The artistic level in the contest was high, something that also made an impression on SEK's creative director Sami Kelahaara:
"The quality of the posters were in general excellent and they were done with artistic finesse. It's obvious that travel posters are living in a new renaissance."
Now ten finalist works remain and it is up to the people to decide. All those who visit the Matka Travel Fair in Helsinki can vote for their own favorite. The ten finalists are exhibited right next to European Stage, 6b2. The first price consists of a trip to Lapland plus 2000 € in cash. This year's winner will be announced on March 1st, 2018.
One can also admire the works and vote at Arktikum in Rovaniemi and at the Maritime Museum in Kotka where a large Finnish travel poster exhibition is currently hosted. Voting is also possible on the website myfinlandposter.com. One lucky voter will receive a gift package, worth 300 €, as a courtesy of Come to Finland. Voting ends on February 18, 2018.
Come to Finland is a Finnish design company & cultural project with focus on Finnish travel poster art.
High-res pics available:
Magnus Londen, Poster Hunter, Come to Finland
magnus.londen@cometofinland.fi
---------
Press release 8.11.2017
International poster contest:
Capture the charm of Finnish Lapland!
What would a travel poster for today's Lapland look like? This question we would like to present to all Lapland-loving creative minds everywhere in the world.
Come to Finland, Arktikum, Grafia, Lapland Hotels, SEK and Visit Rovaniemi are collaborating to find a travel poster for the Finnish Lapland and are therefore announcing My Finland Poster contest. The contest is open to illustrators, graphic designers and artists all over the world - everyone who can paint, draw by hand or use a drawing tool on the computer.
The first prize is 2000 euros and a one week holiday for two in the Finnish Lapland. The winner of the 2017 contest was Omar Escalante from Guatemala with his poster "Take some Finland".
This year's contest is all about capturing the Finnish Lapland in a poster in an appealing, stylish and preferably humouristic manner – one that awakens a strong fascination and excitement to rush to the Finnish Lapland to experience the breathtaking scenery and the magical atmosphere.
The style is completely free. Winter or summer, fall or spring, the Northern Lights or the midnight sun, city life or the wildlife, mountains or mosquitos, modern or vintage-inspired, it can basically be anything.
Why a travel poster and why particularly Lapland?
Because that's how it all started. With creative travel posters – in a style which nowadays is called vintage – travellers from both near and far were attracted to Finland. That resulted in stunningly beautiful works of art by Finnish artists, which to this day continue to seduce us.
Lapland is at the very centre of Finnish tourism and is Finland's undisputed main attraction for people from all over the world. Therefore it is only natural that the winner will have a chance to wander off the beaten path or rest in the inspiring surroundings.
The contest ends on January 4th, 2018.
For more information:
myfinlandposter.com
Magnus Londen, Poster Hunter, Come to Finland
magnus.londen@cometofinland.fi
Come to Finland is a design company and a cultural project focusing on Finnish travel poster art.

PARTNERS for the contest 2019: