Press release Jan 17, 2019
Pick the travel poster
of the year!
What should a travel poster for Lake Saimaa and Finnish Lakeland look like? Following an international competition ten works of art have been chosen by our jury. Now it is up to the people to decide – the voting starts at the Travel Fair in Helsinki.
The region of Lake Saimaa is more popular than ever among international travelers. That is why Saimaa needs an artistic travel poster – so that each and every one will understand the charm surrounding this region.
This is the reason why the poster company Come to Finland and its partners announced an international competition in October aimed at graphic designers, illustrators and artists. The mission: capture Lake Saimaa in a classic travel poster.
The contributions started pouring in. We got nearly 140 works of art from 22 different countries, and the jury was to select ten finalists from these.
"The level of creativity was astonishing! From computer graphics to posters in vintage style to abstract art. The posters depicted precisely the diverse Lake Saimaa that we were hoping for – with all four seasons represented", says the jury president Magnus Londen.
The jury was made up of graphic designer Kirsi Kukkurainen, AD Santeri Kekkonen at the advertising agency SEK, Senior Director of International Marketing Heli Jimenez of Visit Finland, Juha Sorjonen Chief of Brand and Marketing Officer at goSaimaa, graphic designer Linnéa Sjöholm at Come to Finland and with Come to Finland's poster hunter Magnus Londen as the president.
Now ten finalist works remain and it is up to the public to make the final decision. All those who visit the Matka Travel Fair in Helsinki can vote for their own favorite. The ten finalists are exhibited at booth 6f40. Voting is also possible on the website myfinlandposter.com. One lucky voter will receive a gift package worth 300€ courtesy of Come to Finland. Voting ends on February 17th, 2019.
The first prize in the contest itself consists of a trip to Lake Saimaa plus 2000€ in cash. This year's winner will be announced on March 6th, 2019.
Come to Finland is a Finnish design company & cultural project with focus on Finnish travel poster art.
The MyFinlandPoster contest is arranged annually.
For high-resolution pictures please contact:
Sari Uusitalo, CEO
sari.uusitalo@cometofinland.fi
• • •
Press release October 10, 2018
Come to Finland launches a travel poster contest for Lake Saimaa:
My Finland Poster 2019
What should a travel poster for today's Lake Saimaa look like? Creative artists around the world now have a chance to present their visions.
Come to Finland, Grafia, the Lake Saimaa destination and the advertising agency SEK are collaborating to find a travel poster for Lake Saimaa and are therefore announcing the My Finland Poster contest. The contest is open to illustrators, graphic designers and artists all over the world. This is the third time Come to Finland arranges the international travel poster contest.
The idea is to create a travel poster that tempts people from near and far to travel to Saimaa and experience Finland's most celebrated and photographed lake district.
The deadline for the contest is January 6th, 2019. The top prize is 2000 euros and a one week adventurous holiday for two in the Lake Saimaa region (from the winner's country of origin). The winner poster will also be published and branded by Come to Finland.
Lake Saimaa – a classic among travel posters
Back in the days creative travel posters charmed international travelers to pack their bags and head up north to Finland. These astonishingly beautiful works of art fascinate us even today. A good example is this classic travel poster by Paul Söderström and Göran Englund from the 1930s: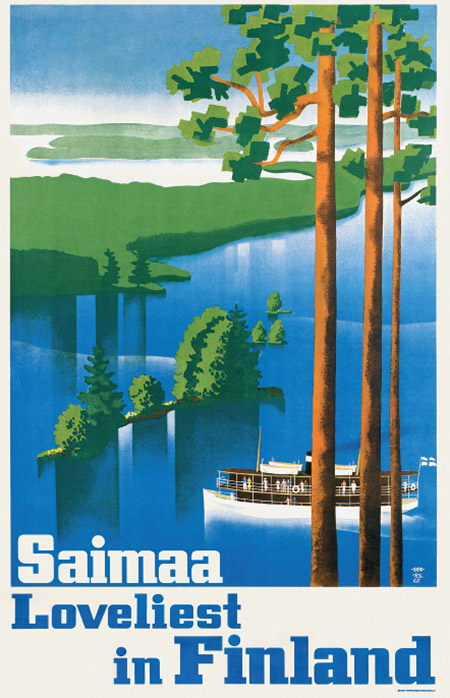 Now Come to Finland wants to do the same thing again.
A travel poster should have a clear and simple message. Or in the words of Finnish poster master Erik Bruun: A poster should be distinct and understandable even when printed on a matchbox.
The style is free with the exception of photo posters or photomontages.

Come to Finland loves travel posters
In 2017 Omar Escalante from Guatemala was awarded the first prize with his poster "Take Some Finland". Last year Amelia Hillebrant from USA was announced the winner with her poster "Home of the Northern Lights".
The contest rules and information can be found at myfinlandposter.com
More information:
Sari Uusitalo, CEO
Come to Finland Publishing
sari(at)cometofinland.fi
phone: +358 50 355 7553
and
Juha Sorjonen
Marketing Officer, goSaimaa Oy
juha.sorjonen(at)gosaimaa.com
phone +358 40 8412480
• • • • •